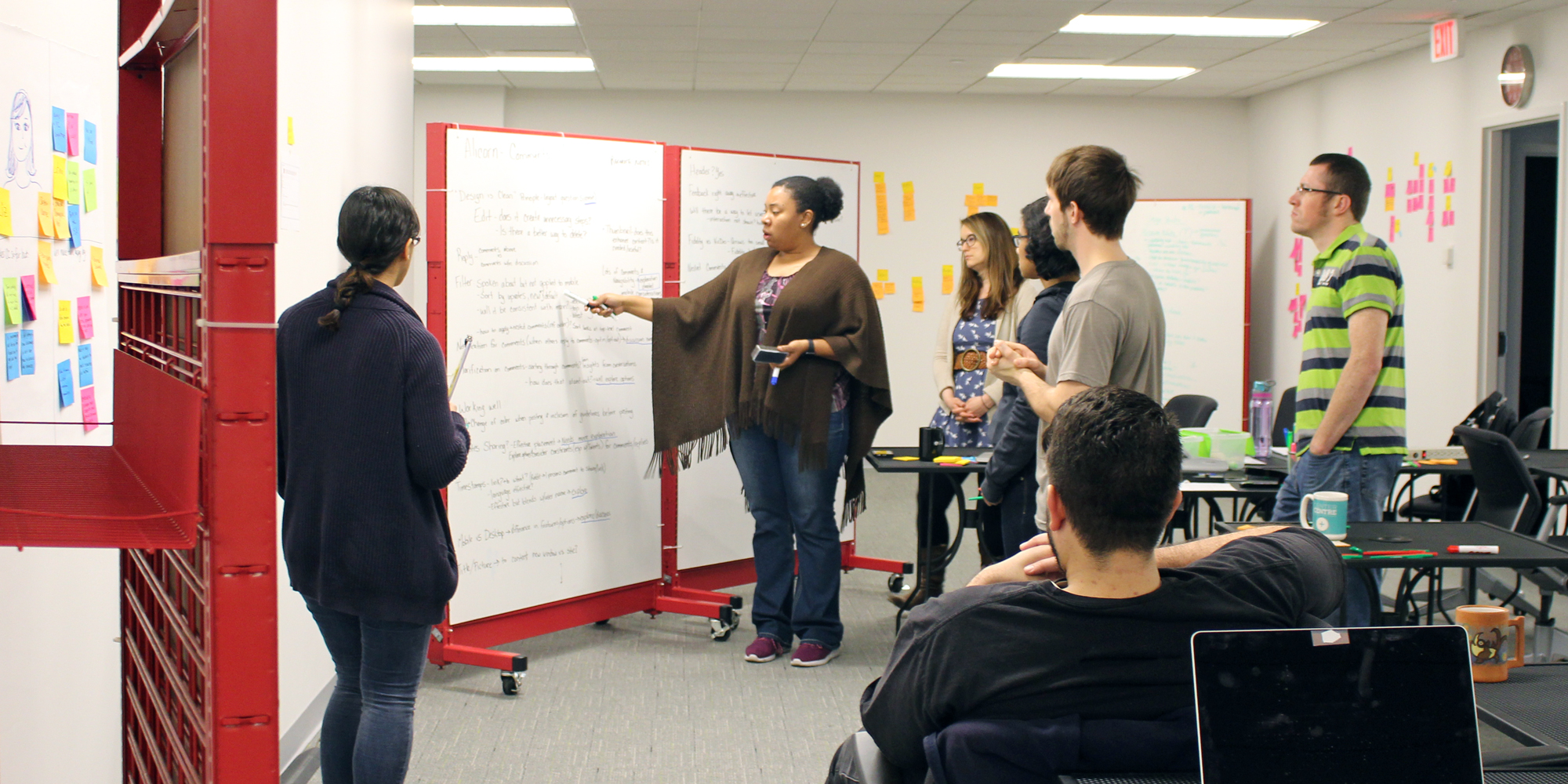 5 years ago, we started our journey. Our goal was to change the world of design, by design.
We started with the Unicorn Institute Kickstarter project to create a UX Design curriculum for our new school, Center Centre. The design community came out in droves. Their donations raised more than 600% of our initial goal.
Those initial donations, 5 years ago, started a domino effect:
We hired Jessica Ivins and Thomas Michaud to develop curriculum for 24 courses.
With the depth and range of those courses (from Visual Design to Critique,) we attracted 70 applicants for our initial student cohort.
From those applicants, we found 6 who had the right stuff to become our initial cohort.
Jessica and Thomas then became our first Facilitators (what we call our full-time faculty), working every day with our students to teach the curriculum.
Every day, our students demonstrate they are learning the right skills to tackle real-world design challenges.
Companies are continually impressed by how quickly our students learn and how well they worked together on projects.
As our students approach their October graduation day, these companies are excited to recruit them.
The design community—your community—came together to make this happen. Your donations let us build an entire school from the ground up. We can't stop here. There's too much to do.
We need your help to continue to do amazing things at Center Centre. We need your help to change the world of design, by design.
We've got big plans for year 6. We want to help bring design deeper into organizations that struggle to deliver great experiences to their users and customers.
This is our master plan for 2018:
We'll graduate our first cohort of students in October. They'll get great jobs at organizations that will benefit from hiring well-trained UX designers.
We'll start our second and third cohorts. We'll improve our curriculum to teach them the latest methods and techniques.
With the core elements of our curriculum, we'll create UX design training for businesses to infuse design throughout their organizations.
We'll launch new design management training to help organizations get the most from their design teams.
We'll also launch a new design leadership program, to help seasoned designers guide their organization down a path of creating delightful products and services.
To do all this—and change the world of design in the process—we need your help. Any donation you give supports a diverse and inclusive design practice that leads to better products, services, and ultimately a better world. You can be an important part of that.
Donate $50, $25, $10, or even $1—every dollar counts—and become a Give Forward Student Loan Fund Supporter. As a Supporter, you'll get a VIP invitation to visit Center Centre, meet our students, share your own journey, and find your name on the Wall of Awesomeness.
Donate $500 or more, and you can attend a UX workshop at Center Centre alongside our students. This is a great chance to learn from an amazing expert in our industry and see our students in action.
Donate $5,000 or more, and we'll put your name on a student's three-month living stipend. We'll introduce you to that student, who can benefit from your wisdom and experience as they start their career.
Donate $7500 or more, and we'll send Jared Spool to talk about design with your company. Jared can educate your team with one of his entertaining, world-renowned presentations, where he'll share his expertise on your hardest design leadership challenges.
We know you share our goal to have the world take advantage of everything design has to offer. We'll need more designers to make that happen.
The only way we create more diverse, well-trained, industry-ready designers is with your support. Please donate today.
Thank you,Leslie